Welcome Dr. Jennifer Lynch!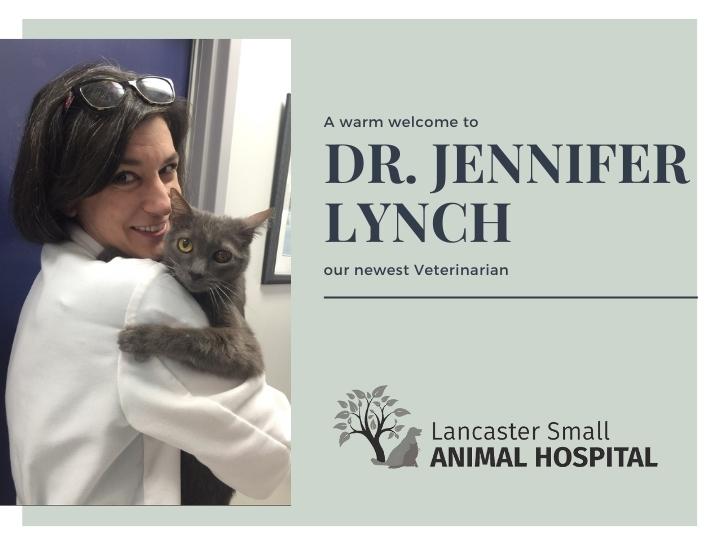 April 17, 2023
It is our pleasure to welcome Dr. Jennifer Lynch to the Lancaster Small Animal Hospital family on April 17th! Dr. Lynch is excited to get to know all of our wonderful clients and patients and would like to share a little bit about herself, so that you may get to know her as well.
"I may not have always known I would become a veterinarian. What I did know when I was growing up, was that I would join a profession where I looked forward to going to work every day and one that would afford me the opportunity to make a difference in my community through a service-oriented career. Prior to embarking on a leap of faith at 29 years old, I dabbled in other professions along the way including biotechnology and coastal and ocean policy. Although I took the road less traveled, could not be more grateful to have found my passion working at Lancaster Small Animal Hospital.
Every time I see a family with their beloved pet, I strive to provide a warm environment where one feels at home to talk with me about concerns and comfortable talking about how I can best help their pet. Through conversation, we can make a plan together that is right for you and your family. And if things aren't going as we hope when your pet is ill, I am always happy to talk with you and help guide our next steps.
My family and I moved to Buffalo from Frederick, Maryland but I am a Western New Yorker at heart! I married a central New Yorker, my husband Christian and we have two children, Abby and Shane. We also share our home with our spirited kitty, Buddy, who thinks he is a Maine Coon. Outside of my career, I enjoy spending time with my family, attending local community events and festivals, photographing everyday life, practicing yoga, and cheering as the Bills Circle the Wagons! Someday in our spare time, we hope to begin navigating through the National Park System. I am so grateful to be part of such a wonderful team and truly look forward to getting to know you and your pets! Though newer to the area, I am already in Buffalove! Ut Prosim!" - Dr. Jennifer Lynch